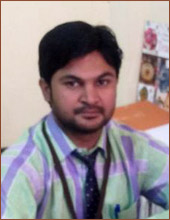 Computer Science & Engineering
Head of The Department
Prof. Deepak Jain, has Master of Engineering in Computer Science & Engineering from Trupati Balaji Institute of Engineering & Information Technology (TRUBA), Bhopal and Bachelor's degree in Computer Science & Engineering from Trupati Balaji Institute of Engineering & Information Technology (TRUBA), Bhopal. He joined as Asst. Professor at JNCT, Bhopal where he is teaching since 2007. Prof. Jain has participated and contributed in many Technical Workshops, Seminars and Conferences which had been organized by RGPV, Bhopal, LNCT and JNCT, Bhopal. He is a lifetime member of ISTE.
Department of Computer Science & Engineering
---
The Computer Science and Engineering Department was established in the year 2003 with inception of the college Jai Narain College of Technology. This is a growing department with an outstanding faculty, keeping pace with the rapid proliferation of, and advances in, computing and information technology. The students are encouraged to undertake projects in collaboration with various industries and are also sent for training in industries. It is evident from the Training Placement records of past year that both faculty and students have been working in synchronization to take the department to heights of academic excellence. Apart from technical excellence students have also achieved success in sports and cultural area.
Programs Offered by the Department
---
Undergraduate Course
-> B.E. in Computer Science & Engineering
Post Graduate Course
-> M.E. in Computer Science & Engineering
Vision
"To achieve excellent standards of quality education by keeping pace with rapidly changing technologies & create computer professionals of global standards with capabilities of accepting new challenges."
Mission
"To produce world-class professionals who have excellent analytical skills, communication skills, team building spirit and ability to work in cross cultural environment. The Mission also includes to produce international quality IT professionals, who can independently design, develop and implement computer applications.
Professionals who dedicate themselves to mankind, who are environment conscious, follow social norms and ethics."
Infrastructure
Lecture Halls, Class Rooms, Seminar Hall and Departmental Library are key features.
11 LABS on different subjects like CP, Software Engg., DBMS, OOPS, Graphics & Multimedia and Major Project lab.Total No. of Computer Systems in the dept. are 300 approx. All laboratories are equipped with latest CORE 2 DUO Computers, scanners, printers.
Internet Facility: Internet Access is made available in all machines in Project Lab and is well secured behind Firewall .The entire College campus is WiFi enabled. Online study materials are available on an e-learning server Course materials available under NPTEL (National Program on Technology Enhanced Learning) by 7 IIT's & IISc.
Department Library: The library has many journals and books available in the department. Allthe major software packages are available for study.
Faculty & Supporting Staff Details:Faculty Student Ratio is 1: 11.5. Avg. Academic Experience of faculty is 4 Years. Faculty participates in various activities like Departmental Library, Time Table Scheduling, Project work, Planning & Development – Amenities.
Teaching:Learning methodology -Faculty members prepare LESSON PLAN and maintain COURSE FILE for the subjects handled. LCD projectors are actively used both in the classroom and in Laboratory. Feedback from the students is obtained in very semester to make the teaching-learning process effective. Guest lectures are organized for the students by Industry Representatives, Research Scholars and Academicians on topics of current interest
Value Added Training: Various value added training programs are organized by Web Makers Mozila Community, CMC Pvt.Ltd. to update students of the latest trends in the field of Computer Science.
Co-Curricular Activities & Extra-curricular Activities: The students have participated in Inter College Competitions held at state level and National Level and brought laurels for the college.